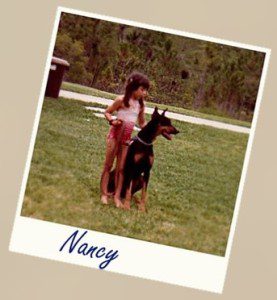 Hello, let me take a moment to introduce myself. My name is Nancy, I have been training dogs professionally for almost 29 years but unofficially have been at it from the time I was a little girl. They say some things you are just born with, and the passion and understanding I have for dogs has been with me my entire life.
My family always had Dobermans in the house, and they were always like best friends to me. I was also the kind of kid who would bring home every stray and try to help fix every animal in need. My true love and passion to help dogs began at a very young age but has led me to build my life and career around them.
I started Palm Beach Pampered Pets in Palm Beach, Florida back in 2000. I would train, bathe, walk and pet sit for some of the most famous names in the country on the island of Palm Beach. In 2006 I started Puppy Protection of Palm Beach, a 501 (c) (3) not for profit dog rescue. (since moving to Greenville, renamed Match K-9 Rescue & Rehabilitation)
It was through my rescue work that I encountered some of the most severe cases of abuse, neglect and trauma that I have ever seen. Saving dogs that others have discarded, rehabilitating them, and then finding the perfect forever homes that they deserve has been one of the most rewarding things I have done in my life.
I came to Greenville, SC back in 2012 after deciding that I wanted to live in a state that had four true seasons and lots of southern hospitality! Very quickly I fell in love with Greenville and decided to put down some roots. I currently live in Greenville with my three Chihuahuas, my rescued Pit Bull/Italian Greyhound mix, and my Greater Swiss Mountain Dogs.
My second passion is horses! I have been riding since I was two years old and was lucky enough to have my own horse at eight. I've owned many horses of various breeds throughout my life including Quarter Horses, and  Hanoverians however my "once in a lifetime horse" is a Clydesdale named Melody. I purchased her when she was fourteen months old and she and I have lived a lot of life together. Melody currently resides ten minutes from my home in Easley, SC.
Since moving to Greenville, I have been very busy. I started a dog friendly meetup group called City Paws in the summer of 2012. We always had a full calendar of year round events and I met lots of wonderful people and their pups while discovering lots of dog friendly places in and around Greenville. It was a huge success and boasted over 650 members at the end of 2015 when sadly, I had to discontinued due to my busy schedule of dog training and keeping up with my dog rescue.
I also have worked with our local county animal shelter quite a bit since 2013. I have volunteered by starting a program that helps members of our community connect with dogs and cats who are in danger of being put to sleep due to lack of space at the shelter. "Foster Friends" helps spread the word of animals in need through social media and gives our community the opportunity to assist by temporarily fostering an animal. Foster Friends also works hand in hand with My dog rescue MatchK-9 Rescue & Rehabilitation.
I have had so much fun helping people and animals throughout my life and I now look forward to helping you build a better relationship with your dog and improving your dog's quality of life!