(courdesy of ASPCA.org)
Facts about Animals in U.S. Shelters:
Approximately 7.6 million companion animals enter animal shelters nationwide every year. Of those, approximately 3.9 million are dogs and 3.4 million are cats.
Each year, approximately 2.7 million animals are euthanized (1.2 million dogs and 1.4 million cats).
It is impossible to determine how many stray dogs and cats live in the United States; estimates for cats alone range up to 70 million.
Many strays are lost pets who were not kept properly indoors or provided with identification.
Only 10% of the animals received by shelters have been spayed or neutered.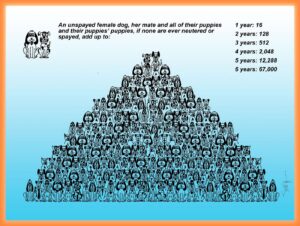 About Match K-9 Rescue
Match K-9 Rescue was founded in 2006 with the aim to save animals in life and death situations. When we looked at how most animal rescue orginazations in this country function, which is to rescue and adopt animals in the quickest possible time so more can be saved, we decide we wanted to do things a little differently.
We know that a significant number of the animals that find themselves in the shelter system or out on the street have not had responsibe owners or the best start in life. A responsible owner teaches their pet all the rules and boundaries of life. This requires time, patience and energy. A responsible owner also provides love, stability and care which, sadly many animals have never had. Due to this, many of the homeless animals in shelter or on the streets have behavioral issues and/or some from of trama (some more severe than others).
We know that by trying to save and adopt as quickly as possible many animals, 1) never get the proper evaluation of their personality and existing issues, 2)never get properly matched with families that are just right for each individual and 3)are commonly returned, given away or end up back in the shelter system. Now this is not the case with all homeless animals. There are, of course, animals who have led happy and healthy lives that for one reason or another have found themselves in a shelter or homeless, but percentage wise they are in the minority.
Match K-9 Rescue & Rehab is a small rescue organization that takes in a limited number of animals at any given time. We focus more on an individual basis. Each animal we rescue is evaluated by a profession trainer. Next we give each animal a 14-15 day decompression time where we begin any and all medical treatment necessary. We use this time to begin to get to know each animal. We start to learn likes and dislikes, fears and anxieties and any behavior issues that will need correction. After the decompression period is complete we begin a full socialization and training period. Dogs will learn how to get along with a wide variety of others and learn proper social skills and manners. Any behavioral issue such as food aggression or resource guarding is fully addressed with our trainer. Once a dog is ready for a furever home we painstakingly screen, evaluate and research many homes to assure the best possible fit for each individual. Does this mean that sometimes and adopter is turned down for a specific dog but is approved for another, YES! Our ultimate goal is to make a furever Match. We want our dogs and our adopters to be happy with each other for the long haul, not just for the short term. If we do not have the perfect fit for a particular family, we are always more than happy to notify you when we get an animal in that is that perfect Match!
Additionally, Match K-9 Rescue is always available post adoption if our adopters even need our help. This includes answering any training questions, helping to select a companion animal for your adopted dog or assistance in any way.
We believe that every dog deserves to live a happy and secure life where they receive love and affection and are a valued member of a family.
How You Can Help
There are so many ways you can help!
Donate financially via PayPal, Zelle or Venmo. This is a fast and easy way for you to make an immediate difference in a dogs' life! Just send donation to: [email protected]
Donate by shopping on Amazon.com through Amazon Smile.
Donate by shopping through iGive.com
Foster a dog through our program: Foster Friends
Become part of our Foster Friends Volunteer network
Donate supplies from our amazon Wish List
Donate gently used dog items, cleaning and medical supplies from our                 "In Need Of" list
Share our adoptable dogs via social media
Partner your business with Foster Friends for fundraisers and speciality events
Get involved, If every person gives a little bit we can make a big impact together!